An Indian pickle is far from the cucumber-based snack that most Americans think of when we hear the word "pickle".  Instead, it is a culinary staple that complements most savory meals as a flavorful and concentrated condiment.  This particular pickle recipe brings about the harmonious union of ginger, turmeric, lemon, chili pepper, and salt to create an invigorating spicy, sour, salty, bitter, and slightly sweet addition to your meals. 
The best part of making this recipe (and any recipe) homemade is that you get to decide exactly what goes into it — no scary surprises!  As much as I love the delicious Indian pickles that you can get at most Indian markets, many of them are sadly filled with preservatives, additives, and sometimes even dyes.  Making my own has now become a staple for having at hand, and honestly, my meals seem a bit naked without it.  I really enjoy the flavor it brings, and the added health benefits of the fresh turmeric, ginger, and lemon are simply the icing on the cake!
Health Benefits of the Spicy Turmeric Ginger Pickle
Increases the digestive fire

Activates digestive enzymes

Promotes the absorption of nutrients (beneficial in malabsorption)

Increases circulation

Boosts immunity

Reduces congestion

Warms the system

Reduces Vata and Kapha dosha

Improves the flavor of the meal
Although this spicy pickle has many healing properties, it can be a bit too heating and sharp for Pitta types or for anyone with a Pitta imbalance.  For this, please follow the Pitta modifications listed with the recipe.  Taking too much of a good thing can also cause hyperacidity, loose stools, or a burning sensation in the GI tract.  Therefore if you are experiencing any type of inflammatory GI issue, it is recommended to avoid this recipe until balance has been found.  Due to the warming nature of this condiment, it is best to enjoy in the cooler seasons of the fall, winter, and early spring; please utilize the Pitta modifications listed and use moderately during the hotter months. 
If you are new to eating an Indian pickle with your meals, you may be wondering how to incorporate it.  I personally enjoy adding a small spoonful to most kitchari, dal, rice, quinoa, or sautéed veggie dishes.  The spices and flavors complement these dishes so well, I am definitely hooked!  Once you have served your meal, simply stir this spicy pickle into your bowl and enjoy the plethora of flavors (and healing) it brings!
Click here for a printable copy of this recipe.
*Pitta types can enjoy in moderation (½ teaspoon per meal) with the proper Pitta modifications listed below.
Materials
Clean-dry glass pint jar with an airtight lid

Cutting board

Sharp knife

Veggie peeler

Lemon juicer
Ingredients
½

cup chopped fresh ginger, packed (ideally organic)
½ cup chopped fresh turmeric, packed (purchase here* or find at your local health food store)

2 serrano peppers, finely chopped (omit for Pitta)

½ cup fresh lemon juice (about 3 to 4 lemons) (use lime for Pitta)

2 tablespoons sunflower oil or olive oil*

¼

teaspoon brown mustard seed, whole (omit for Pitta)

¼

teaspoon cumin seed, whole
1½ teaspoons pink Himalayan salt or mineral salt (use 1 teaspoon for Kapha)

⅛

teaspoon freshly ground black pepper
Directions

Click here for a printable copy of this recipe.
1. Wash and peel the fresh turmeric and ginger.  Using a sharp knife, chop the turmeric and ginger into fine, small pieces.  Add the ingredients to a clean and dry glass pint jar that has an air tight lid.

2. Wash and finely chop the serrano pepper.  Add this to the jar.

3. Squeeze the lemons and add the fresh juice to the jar.

4. Add in the oil, brown mustard seed, cumin seed, salt, and black pepper.

5. Using a clean and dry spoon, stir all of the ingredients together until they have been evenly blended.  If the liquid does not cover all of the dry ingredients, add in more lemon juice until there is complete coverage.

6. Place the lid onto the jar and let the pickle sit at room temperature for 2 days (only 1 day if the temperature is over 75º).  Shake the jar well at least once daily. 
NOTE: I will use some in the meantime if I simply cannot wait, but the flavor is best when the pickle has sat for at least 24 hours. 

7. After 1 to 2 days of steeping at room temperature, place the pickle in the refrigerator for up to one month.  Please store it in an airtight glass jar and make sure to use a clean, dry spoon with every use.  If food or water gets into the pickle, this may lead to contamination and spoilage. 
Discover more healing recipes with my 30-Minute Ayurvedic Cookbook!*
Discover over 100 Ayurvedic home remedies in my "Ayurvedic Herbal Medicine for Beginners" book!*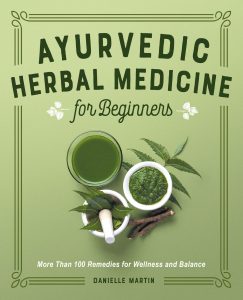 *By ordering directly through these links, you are helping to support Svastha Ayurveda – Thank you!!