Masala in Sanskrit indicates a spice.  This Pitta Masala is a blend of Ayurvedic spices that are put together to reduce Pitta dosha, while enhancing the flavor and the digestibility of your meal.  If you are experiencing symptoms of high Pitta in the GI tract (Tikshna Agni), you will likely have digestive issues such as hypoglycemia (low blood sugar), hyper-metabolism, acid reflux, heartburn, inflammation in the GI tract, and/or loose stools.  You may even have indirect Pitta digestive symptoms such as excessive anger, irritability, frustration, criticism, and impatience (did someone say "gut-brain axis?).  Adding the Pitta Masala to your meals is a simple and delicious way to help pacifying your Pitta and alleviate these Pitta-related symptoms.
Since Pitta is hot by nature, this energetic force can often find balance by favoring foods that are cooling.  The Pitta Masala is a great way to add in the cool quality to any meal, making even heating foods more Pitta-friendly.  It will help balance your fire, reduce overall inflammation (especially in the GI tract), and neutralize acid levels.  This spice blend can be enjoyed by Pitta types all year round, although in the hotter seasons, all body-types may find some benefit in this cooling blend.   
Pitta Masala can be added to any savory food including kitchari, dals, soups, stir fries, stews, meat, rice, vegetables, and quinoa.  By grinding the spices in their whole form, you will ensure the greatest amount of flavor, aroma, health benefits, longevity, and freshness from this Masala.  By having this homemade spice blend at hand, you can make any recipe more exciting, healthy, and delicious!  
Click here for a printable copy of this recipe.
Click here for a printable copy of this recipe.
1. Place all of the ingredients into a blender.
2. Blend on high for 1 to 2 minutes or until all of the whole seeds have been ground into a fairly fine powder.

3. Place the spices into a bowl and manually stir them to ensure an even blending.

4. Place the spices in an airtight jar. 
5. It is recommended to sauté the spices in ghee or coconut oil for 30 to 60 seconds before adding it to your recipe; however, it will still be beneficial to simply sprinkle it on top of your food for a quick, healthy, and delicious meal addition.
These spices will keep their flavor and health properties for 6 months to a year.  They should be stored in an airtight jar, out of the direct sunlight.  Make sure to always use a clean, dry spoon in order to avoid any contamination. 

As a general recommendation, you can replace the turmeric powder with equal amounts of the Pitta Masala in any savory recipe. If this is too difficult, simply add it to your rice or quinoa to make a beautiful, healthy, and delicious dish. 
With the sweetness of the coconut and cardamom, I have recently discovered how delicious it can be in my oatmeal and breakfast porridge!  Just add in a small spoonful (about ¼ teaspoon per serving) of the Masala, a dash of cinnamon, and a dab of maple syrup (optional) and enliven your mind and your taste buds each morning!
Need some inspiration?  Replace the turmeric or Ayurvedic spice blend with the Pitta Masala in any of these recipes!
Discover more healing recipes with my 30-Minute Ayurvedic Cookbook!*
Discover over 100 herbal remedies in my Ayurvedic Herbal Medicine for Beginners book!*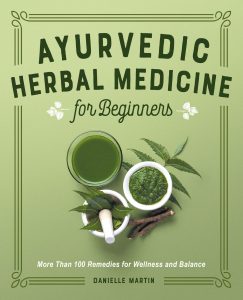 *By ordering directly through these links, you are helping to support Svastha Ayurveda – Thank you!!