With the holidays in full motion, baking season is officially here!  Holiday eating doesn't have to mean unhealthy, however.  With some help from Ayurveda and some mindfulness around your ingredient choices, you can easily make your holiday treats nutritious and delicious for the whole family to enjoy! 
After learning the food combining rules of Ayurveda many years ago, I had to say goodbye to my beloved banana bread (read more on the improper food combinations here!)  Since then I have made countless muffins and bread using amazing alternatives such as carrot, zucchini, pumpkin, and sweet potato.  I thought I would go a step further this year to nourish my recent butternut squash obsession and see where it takes me…  And yes, success! 
This Butternut Squash Bread is the perfect amount of sweetness, lightness, and spice.  Using whole food and Ayurvedic-inspired ingredients, this bread is delightfully flavorful, super moist, and a great alternative to the more traditional holiday treats.  It will be nourishing and grounding for your Vata, but not overly heavy or hard to digest.  By using whole wheat flour (oat flour works for a GF option), warming spices, healthy oils, and nutrient-rich butternut squash, this bread has been a welcoming sweet snack for me and my family to indulge in (definitely kid-approved!).
If you are vegan or gluten-free, there are alternatives available!  See some options below.
Make it Vegan!
To avoid using any animal products, use one of the recommended oils instead of ghee and use nut, coconut, or seed milk instead of dairy milk.  You can try our Homemade Almond Milk Recipe here or our Homemade Hemp Milk Recipe here!
When it comes to eggs, you can easily replace these with flax eggs.  For this, mix 2 tablespoons of ground flax seeds with 6 tablespoons of water.   Stir well until the seed powder is completely covered in the water and let them sit for 10 to 15 minutes, stirring halfway.  This mixture should be thick and gelatinous by the time it is added to the recipe.   This amount will replace both eggs and can be added in at the same time the eggs are added.
Make it Gluten Free!
Oat flour seems to do well with this recipe without creating a crumbly effect after baking.  You can make oat flour very easily by grinding your rolled oats in a blender or spice grinder. Simply replace the whole wheat flour with equal amounts of oat flour.   
*If you happen to try other gluten-free flours, feel free to comment and let us know how it went!
Click here for a printable copy of this recipe.
Makes: 1 loaf (using a 9 x 5-inch pan) 
Prep Time: 15 to 20 minutes
Cook Time (for the squash): 45 to 55 minutes**
Cook Time (for the bread): 55 to 60 minutes
*With the Kapha-specific modifications, this can be a Kapha-friendly, healthy treat for Kapha types to enjoy in moderation.
**The butternut squash puree can be made the day before for a quicker cook time.  Some stores may carry canned butternut squash puree, however, I recommend to go all out and go fresh!
Baking sheet or glass baking dish (for roasting the butternut squash)

Large knife (for cutting the squash)

9 x 5-inch bread pan

Small mixing bowl

Large mixing bowl

Hand immersion blender* or hand mixer (if this is unavailable, a large mixing spoon will do!)

Large mixing spoon

Measuring cups

Measuring spoons
For the Butternut Squash Puree:
1 medium butternut squash

2 teaspoons ghee, coconut oil, or olive oil (Kapha types use olive oil)

Cinnamon, for sprinkle
For the Bread:
2 cups butternut squash puree (ideally fresh, but canned works too!)

⅓ cup melted ghee, melted coconut oil, or olive oil (Kapha types use olive oil)

2 eggs (Kapha types use the flaxseed "egg" recipe mentioned above)

¼ to ½ cup maple syrup, depending on your sweet tooth (Kapha types use ¼ cup)

¼ whole milk or milk substitute (Kapha types use non-dairy milk alternatives such as almond milk or hemp milk)

1 teaspoon vanilla extract

½ teaspoon pink Himalayan salt or mineral salt
1½ teaspoon cinnamon powder
¼ to ½ teaspoon ginger powder*
⅛ to ¼ teaspoon turmeric powder*
⅛ to ¼ teaspoon cardamom powder*

Pinch of clove powder*

Pinch of nutmeg powder*

1 teaspoon baking soda

1¾ cup 100% whole wheat flour (use oat flour for a gluten-free option)

Extra cinnamon for topping
*Spices can be replaced with ½ to 1 teaspoon of our Ayurvedic Breakfast Spices.
Optional Additions:
I personally enjoy this recipe as is, but if you need more excitement, then here are a few ideas for some yummy additions.
½ chopped walnuts
½ chopped pecans
¼ cup cacao nibs
¼ cup shredded coconut
⅓ to ½ cup chopped dates or raisins
NOTE: By ordering directly through any Amazon links, you are helping to support Svastha Ayurveda – Thank you!!
Click here for a printable copy of this recipe.
Preparing the Butternut Squash Puree:
1. Preheat your oven to 425º.
2. Take the butternut squash and cut it into 2 even pieces lengthwise.  Remove the seeds.
3. Place the two halves on a baking sheet or glass baking dish, with the cut side up. 
4. Brush the top of each half with the ghee or oil of your choice.  Then sprinkle each half with cinnamon. 
5. Place the butternut squash, uncovered, in the oven and bake for 45 to 55 minutes or until the squash is soft and fork-tender.
6. Let the squash cool slightly in order to handle it without burning yourself.
7. Scoop out the insides and place the cooked squash in a small mixing bowl.  Make sure to remove any remaining seeds or strings.
8. Using a hand mixer, blend until a fairly smooth (small lumps are fine) texture has been reached.  If a hand mixer is not available, use a hand blender or mash it manually instead.
9. Place the puree aside until needed, or refrigerate it in an airtight jar to use the following day.
Baking the Bread:
1. Preheat your oven to 325º. 
2. Oil your bread pan using olive oil or coconut oil.  Place it aside until needed.
3. Add the eggs, ghee (or oil), maple syrup, and milk to a large mixing bowl and beat until well-mixed.  If you are using melted ghee or coconut oil, make sure that it is liquid, but not so hot that it will cook the eggs!
4. Add the butternut squash puree and beat for an additional minute or until the ingredients are evenly combined.
5. Add in the vanilla, salt, cinnamon, ginger, turmeric, cardamom, clove, nutmeg, and baking soda.  Using a whisk or large mixing spoon, stir well until the dry ingredients are completely blended in.
6. Add in the flour and gently stir in evenly using a large mixing spoon; avoid over-mixing!
7. Once fully mixed, you can fold in any optional additional ingredients as desired (see some recommendations in the ingredient list above!)
8. Pour the batter into the bread pan.  Sprinkle the top with cinnamon.  I enjoy using a butterknife to cut a zig-zag pattern over the top for a fancy finish!
9. Place the pan into the heated oven and bake for 55 to 60 minutes.  I suggest sticking a toothpick into the center at 55 minutes and continuing baking only if it does not come out clean.  If there are any crumbs or batter on the toothpick, keep baking but check every 1 to 2 minutes to avoid burning or drying out the bread. 
10. Once the bread is ready, take it out and let it sit in the pan for 10 to 15 minutes.  Carefully turn the bread over and tap it out of the pan.*  Let the bread cool for an additional 15 to 30 minutes on a wire rack before slicing.     
*I often take a butterknife to the sides of the bread to make sure it does not stick when tapping the bread out of the pan. 
This bread is very flavorful with just the right amount of spice and sweetness.  However, there are a few ways to make this delicious treat, even more scrumptious!
Here are my favorite ways to indulge:
Spread some coconut butter over the top of each slice.

 

This is not the same as coconut oil, and if you have never tried coconut butter, this is a must!!
It doesn't get much better than enjoying a warm piece of butternut squash bread with a hot cup of chai!

For a more sweet, dessert-like treat, mix 1 teaspoon of honey with ½ teaspoon of ghee and stir in ¼ teaspoon of cinnamon for a healthy, but indulgent spread. 
Store the remaining bread by wrapping it in saran wrap and placing it in an airtight Tupperware container.  I recommend refrigerating the bread to keep it moist and avoid spoilage.  With these guidelines, this bread will last 5 to 6 days.    
In my opinion, this bread is best when eaten warm.  To reheat it without drying it out, you can wrap a slice in some tin foil and place it into a toaster oven set at 300º.  Bake for 5 to 10 minutes. 
If you prefer a more toasted finish for your bread, you can simply toast the bread in the toaster oven, or do the 300º method without placing the slice in foil.
Try my Ayurvedic Breakfast Spice blend!
Discover healing recipes with my 30-Minute Ayurvedic Cookbook!*
Discover over 100 herbal remedies in my Ayurvedic Herbal Medicine for Beginners book!*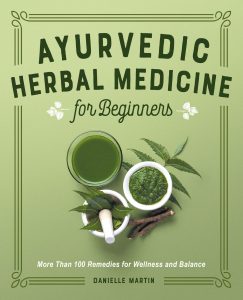 *By ordering directly through these links, you are helping to support Svastha Ayurveda – Thank you!!