Creamy, saucy, and SO flavorful, this coconut lime chicken and zucchini is fast and easy! It's perfect served over rice or quinoa. Yum!
I threw this simple recipe together one night only because I needed to use up some zucchini, and it ended up being one of the tastiest meals we ate this summer! When a meal this delicious crosses your path, you drop everything and share it with the world.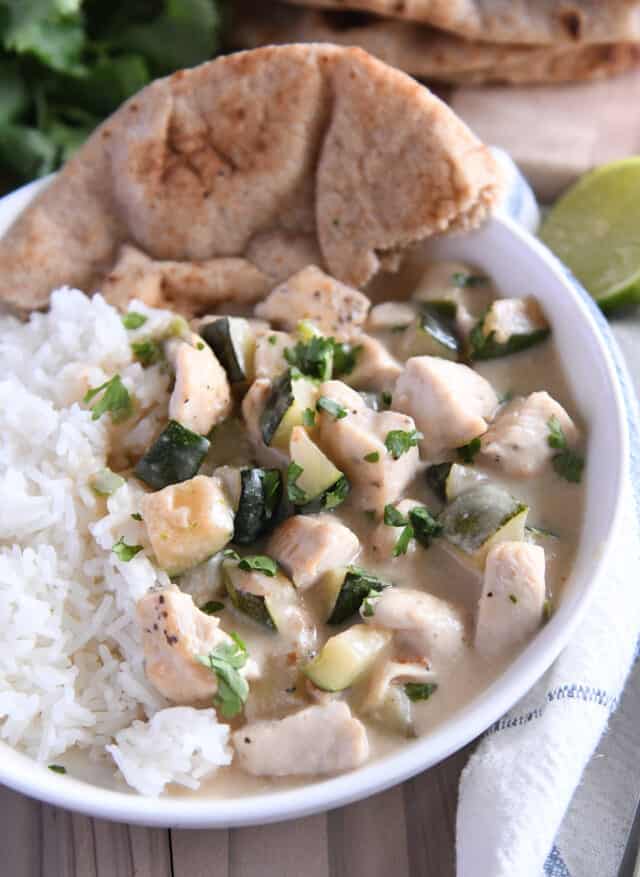 Chicken, Zucchini, and Layers of Flavor
This recipe is very straightforward:
Brown chicken pieces in a little bit of olive oil until golden.
Repeat with the zucchini.
Exponentially increase the flavor by sautéing jalapeno (take the seeds out for great flavor with low heat), fresh ginger, and fresh garlic.
Add coconut milk, a little touch of brown sugar, lime juice, and zest.
Simmer and serve.
The flavor of the chicken, zucchini, and coconut lime sauce is out of this world delicious!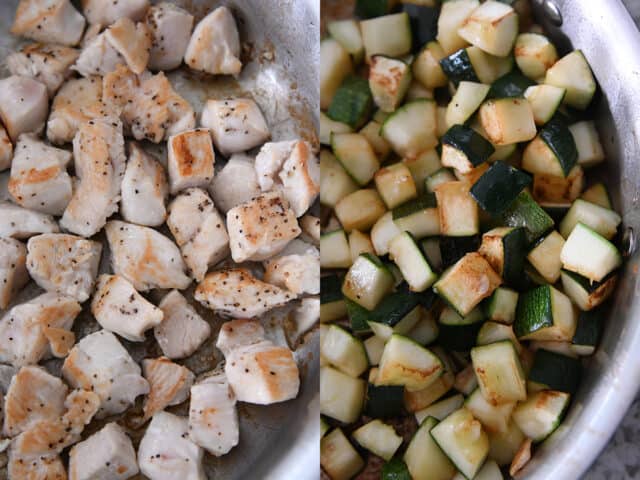 Fresh Garlic + Fresh Ginger
The bright, fresh flavors of the the garlic and ginger are critical to enjoying the best coconut sauce this blog has ever known.
For fresh ginger: buy a chunk of fresh ginger, cut into 1-inch pieces and freeze. When needed, pull out a knob from the freezer and grate it on a rasp grater or the small holes of a box grater (no need to peel). Ginger paste or frozen ginger cubes also work well in place of the fresh ginger. I've seen both at Walmart and Trader Joe's.
Personally, I've taken to keeping the frozen ginger and garlic cubes on hand at all times. They make it so effortless to get those yummy, fresh flavors in a dish with basically zero effort.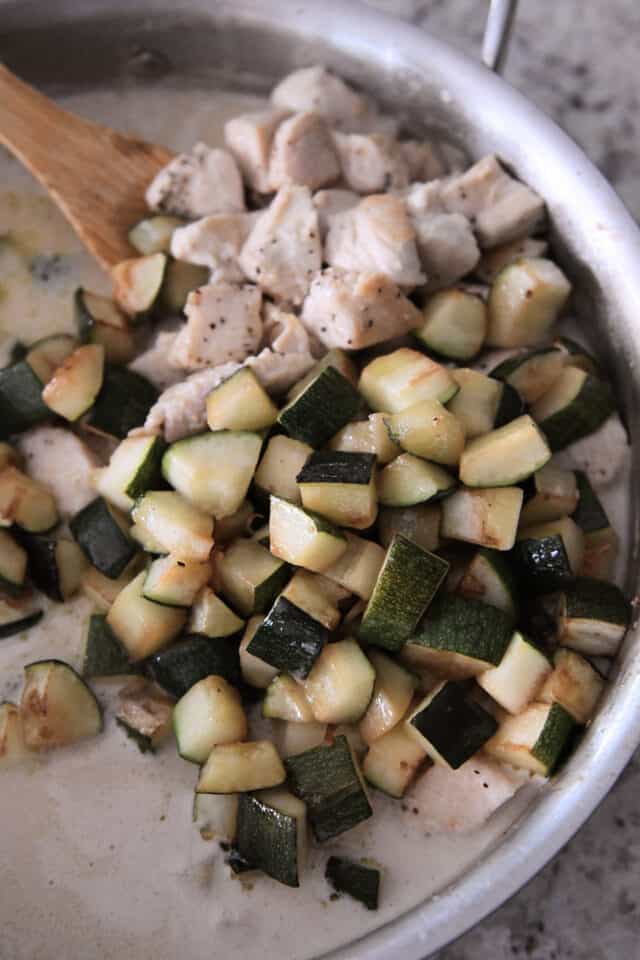 Perfect for a Weeknight Dinner
This saucy coconut lime chicken and zucchini makes a perfect easy and quick weeknight dinner.
Serve it over hot, cooked rice or quinoa…or not. With flatbread…or not. It really is tasty enough to be eaten on its own or with a couple other friendly sides.
All you really need to know is that it is incredibly delicious AND a fantastic way to rid your counter of the garden zucchini threatening to take over the world.
I'm fairly certain that this recipe could easily be adapted to an all-vegetable meal and/or the zucchini could be swapped out for a number of other veggies, like yellow squash, cauliflower, green beans, etc. The secret is really in the flavorful sauce. Focus on that part of the recipe, and you really can't go wrong!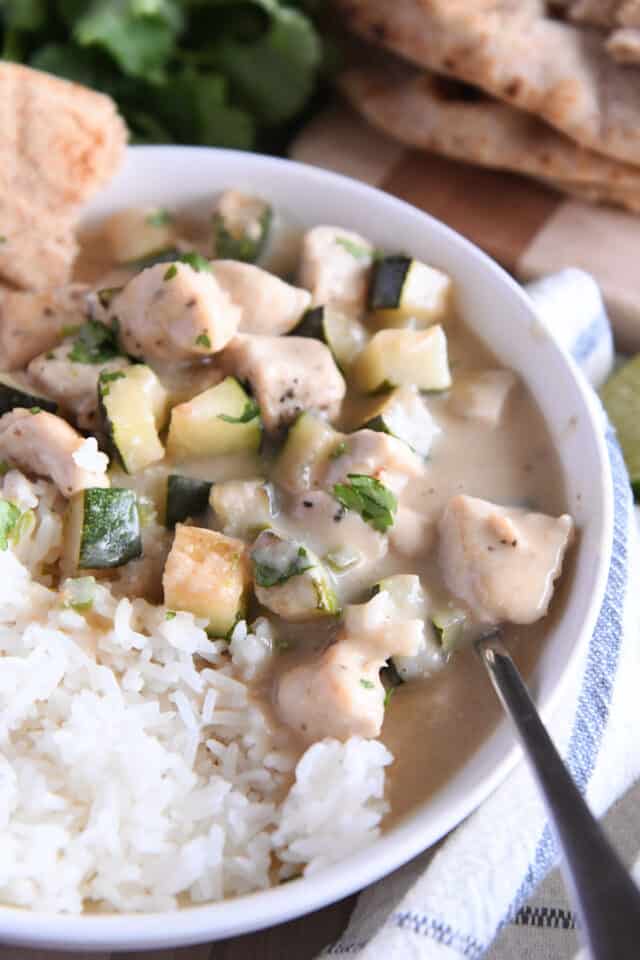 What to Serve With This
Flatbread/naan (homemade or storebought)
Fresh fruit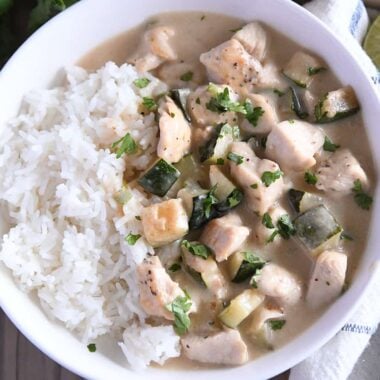 Coconut Lime Chicken and Zucchini
2 to 3

tablespoons

olive oil

1 to 1 ½

pounds

boneless, skinless chicken breasts or thighs, cut into bite-size pieces

Salt and pepper

2

cups

diced zucchini

1

can (13.5 ounces)

light or regular coconut milk

1

tablespoon

cornstarch (optional – see note)

1

jalapeno pepper, finely minced (seeds removed for less heat)

1

tablespoon

grated fresh ginger (see note)

3

cloves

garlic, finely minced

1

teaspoon

brown sugar

Zest of one lime

1

tablespoon

fresh lime juice (from about 1 medium lime)

Hot, cooked rice or quinoa, for serving

Chopped cilantro, for garnish (optional)
In a 12-inch nonstick skillet, heat 1 tablespoon of the olive oil over medium heat until hot and rippling. Pat the chicken pieces dry with a paper towel and season lightly with salt and pepper.

Add the chicken in a single layer (may need to cook multiple batches so as not to over crowd the skillet), and cook until golden and mostly cooked through (the chicken will continue to cook in a later step), about 2 minutes per side. Remove to a plate, leaving as much oil in the skillet as possible. Repeat with remaining chicken, if needed.

Add another drizzle of olive oil to the pan and heat over medium heat. Add the zucchini and cook until golden and sizzling on one side, about 1 minute. Sir or flip and cook another minute or so until the zucchini is tender (but not soft and mushy). Season lightly with salt and pepper.

Remove the zucchini to the plate with the chicken – again, leaving as much oil behind in the pan as possible.

Whisk together the coconut milk and cornstarch together until smooth. Set aside.

If the skillet is dry, add a couple teaspoons of olive oil. Over medium heat, add the jalapeno, ginger and garlic. Cook, stirring constantly, for 30-45 seconds. Scrape up any browned bits from the chicken and zucchini.

Add the coconut milk mixture and brown sugar. Bring to a gentle simmer over medium-low heat and cook for 1-2 minutes, whisking constantly.

Add the cooked chicken and zucchini back to the skillet. Stir and simmer for 3-4 minutes until the chicken is cooked through and the sauce has thickened. Stir in the lime zest and lime juice. Season with additional salt, if needed (it will probably need it).

Serve over hot, cooked rice or quinoa and garnish with fresh cilantro, if desired.
Cornstarch: the cornstarch helps thicken the sauce. It can be left out for a thinner consistency.
Ginger: I find the easiest way to use fresh ginger is to freeze 1-inch pieces. When needed, pull out a knob from the freezer and grate it on a rasp grater or the small holes of a box grater (no need to peel). Ginger paste or frozen ginger cubes (I've seen them at Walmart and Trader Joe's) also work well in place of the fresh ginger. 
Garlic: for a slightly less fresh/pungent garlic flavor, 1 teaspoon garlic powder can be subbed for the fresh garlic.
Coconut Milk: we're just using regular unsweetened canned coconut milk here (not refrigerated coconut milk, coconut cream or cream of coconut). 
Serving: 1 serving (without rice), Calories: 196kcal, Carbohydrates: 3g, Protein: 30g, Fat: 7g, Saturated Fat: 1g, Cholesterol: 87mg, Sodium: 163mg, Fiber: 1g, Sugar: 2g
Follow @MelsKitchenCafe on Instagram and show me the recipes you are making from my blog using the hashtag #melskitchencafe. I love seeing all the goodness you are whipping up in your kitchens!
Disclaimer: I am a participant in the Amazon Services LLC Associates Program, an affiliate advertising program designed to provide a means for me to earn fees by linking to Amazon.com and affiliated sites. As an Amazon Associate I earn from qualifying purchases.