Ayurveda wellness centre – The School of Ancient Wisdom is dedicated to realizing and preserving the ageless wisdom of the country, which provides a holistic view of the world and a vision for individuals to move towards a self-transformation process.
The school aims to be a guiding force for dynamic living, where wisdom is sought and desired to be preserved. We endeavor to steer individuals on the path towards right action, knowledge and illumination.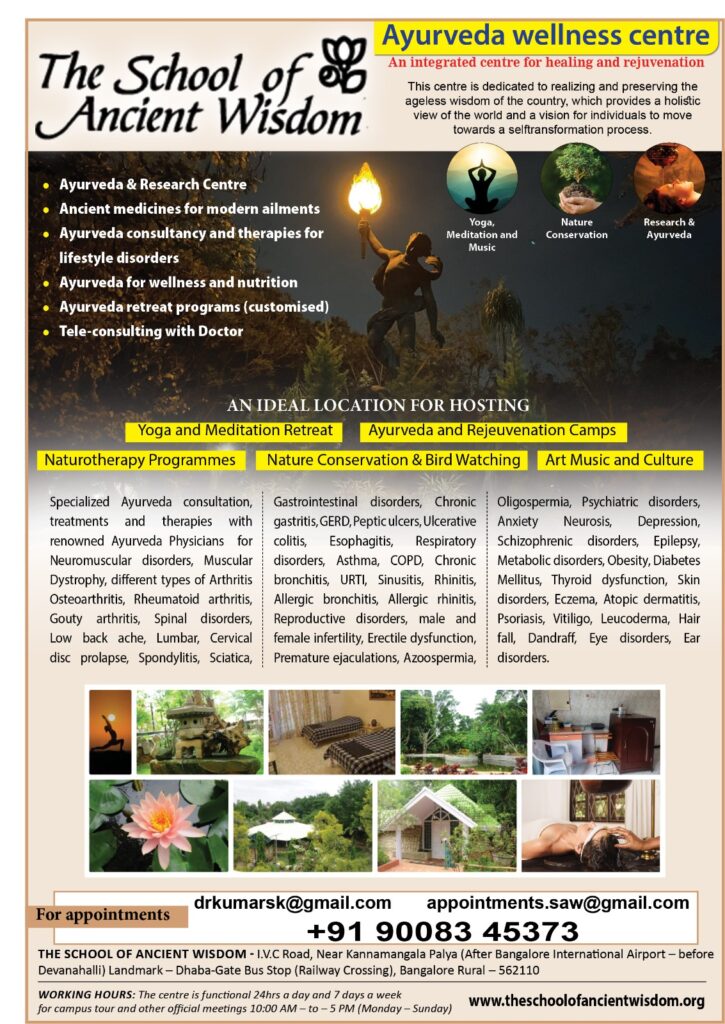 Facilities at School of Ancient Wisdom for retreat programs, equipped with all the facilities
1. Agastya Hall : The main training/program hall, the pristine-white pyramid-shaped Agasthya hall can accommodate a maximum of 100 chairs (and 30 yoga mats)
2. Hall of Wisdom: This hall has a capacity for 60 chairs and 20 yoga mats.
3. Hall of Learning: This hall has a maximum capacity of 30 chairs and is generally engaged by small focus groups and other break away meetings.
4. Dharma Hall: This attractive hall, close to the statue of the Torch Bearer, has a maximum capacity of 40 chairs. Mostly engaged for lecture-based training sessions.
5. Music Room: A very special training room that has a seating capacity for 30 chairs and is equipped with new age electronic piano's, sitar, harmoniums and many other musical equipment's
6. Master Room: Very specially designed by the founder with utmost care. This special room is designed/intended to facilitate personal interactions between seekers with their Guru/Masters. In the Indian context also referred to as the 'Diksha Room' (initiation room). One of the most sacred rooms on the campus.
7. Accommodation – (for 100 Participants): While the institution does not permit private/personal accommodation, however accommodation is made available for participants of retreat programs or ayurveda rejuvenation programs. The campus can accommodate a maximum of 100 participants (twin sharing) with around 45 rooms that are very aesthetically designed and every room has an artistic touch with exotic paintings to welcome visitors and make their stay memorable.
The Ayurveda wellness center at the School of Ancient Wisdom
The Ayurveda wellness center has well equipped infrastructure for Ayurveda consultancy and Ayurveda therapies. This center is having experienced Ayurveda physicians/therapists for betterment of health and wellness.
The Ayurveda center offers effective treatment protocols in management of the following disorders. Neuromuscular disorders, Muscular Dystrophy, different types of Arthritis Osteoarthritis, Rheumatoid arthritis, Gouty arthritis, Spinal disorders, Low back ache, Lumbar, Cervical disc prolapse, Spondylitis, Sciatica, Gastrointestinal disorders, Chronic gastritis, GERD, Peptic ulcers, Ulcerative colitis, Esophagitis, Respiratory disorders, Asthma, COPD, Chronic bronchitis, URTI, Sinusitis, Rhinitis, Allergic bronchitis, Allergic rhinitis, Reproductive disorders, male and female infertility, Erectile dysfunction, Premature ejaculations, Azoospermia, Oligospermia, Psychiatric disorders, Anxiety Neurosis, Depression, Schizophrenic disorders, Epilepsy, Metabolic disorders, Obesity, Diabetes Mellitus, Thyroid dysfunction, Skin disorders, Eczema, Atopic dermatitis, Psoriasis, Vitiligo, Leucoderma, Hair fall, Dandraff, Eye disorders, Ear disorders .
In the Ayurveda wellness centre we follow authentic Ayurveda Panchakarma practices along with Naadi pareeksha and Prakruthi pareeksha for all the individuals. The Panchakarma procedures at Ayurveda Wellness centre are as follows.
1. Snehana : Oleation therapy
2. Swedana : Sudation/Sweating therapy
3. Vashpa sweda : Steam bath
4. Vamana : Therapeutic emesis
5. Virechana: Therapeutic purgation
6. Vasti : Medicated enema
7. Niruha vasti/ kashaya vasti : Decoction enema
8. Sneha vasti : Oil enema
9. Nasya : Nasal insufflations
10. Abhyanga : Therapeutic Massage
11. Kayaseka : Pizichil
12. Shashtika shali pinda sweda : Navarakizhi
13. Avagaha sweda : Sitz bath
14. Upanaha : Poultice
15. Patra pinda sweda: Sudation by leaves
16. Churna sweda : sudation by powders
17. Shirodhara : Application of oil to the Head/ scalp
18. Shirolepana : Application of paste of medicines on head
19. Shirovasti : Medicated oil is kept over the head
20. Kati vasti : hot medicated oil is kept over the lumbosacral area
21. Uro vasti : Retaining warm medicated oil on specific area of chest
22. Akshi tarpana : medicated ghee is retained over eyes.
23. Udwartana : herbal powders applied on the body and is rubbed off gently
24. Raktamokshana : Releases' impure blood from the system.
25. Karnapoorana : Oil filling the ears.
Also Read: Ayurveda – Articles and news
The Ayurveda wellness centre is dedicated to work on Ayurveda (human beings), Pashu Ayurveda (Animals) and Vrukshayurveda (Plants) preventive and promotive health of the community under the umbrella of One Health. We also conduct offline and online short term and long term training programs on Ayurveda, Yoga, Pashu Ayurveda and Vrukhsyurveda.
 Introduction to Yoga and its importance
 Pranayama's techniques to be adopted and eliminate the cardiovascular inhibitions
 Asanas to rejuvenate the body and flexibility of our physical status
 Importance of yoga for lifestyle disorders
 Ayurveda basics & fundamentals
 Medicinal plants for primary health care – Garden visit
 Basics of Ayurveda medicines preparations techniques
 Ayurveda preparations for Cough, Indigestion, fever
 Basics of Ayurveda Aahara Preparations and nutrition's
 Medicinal plants for primary health care – Garden visit
 Ayurveda preparations for Hair oils and Ointment preparation
 Ayurveda Dinacharya – Wellness
 Ayurveda Rutucharya – Wellness
 Ayurveda for animals- Pashu Ayurveda
 Ayurveda for plants – Vrukshyurveda
 Wellness programs for corporates on Body mind soul.
Ayurveda wellness centre at the School of Ancient wisdom is in Collaborations with many national and international organizations. Upcoming 25 bedded Ayurveda hospital and wellness centre.
For appointments
appointments.saw@gmail.com
+919008345373, theschoolofancientwisdom.org