As the summer days gradually fade and the autumn breeze starts to set in, it's important to adapt our lifestyle in various ways to embrace and transition along with the changing season. This not only helps us to better align ourselves with nature's rhythms, but there are health and wellness benefits too, such as feeling more grounded physically and mentally. 
As I mentioned in my last letter, August is the transition point from summer to autumn, and this time can be a delightful experience with the right practices. Today, I'd like to share ten inspiring lifestyle tips to help you make this seasonal transition a smooth and enjoyable one.
10 Lifestyle Practices for the Summer to Autumn Transition
1. Embrace the Outdoors
Before the weather becomes too chilly, take advantage of the remaining warm days to spend time outdoors. You can go for nature walks, have a picnic in the park, or simply enjoy your morning coffee on the patio (a personal favorite of mine). Soak in the early morning light and natural beauty and let it invigorate your senses, slowly preparing you for the autumnal months ahead.
2. Adjust Your Wardrobe
As the temperatures begin to drop, the time will come to pack away your summer clothes and bring out your cozy autumn attire, but don't do it just yeat. Instead, start by incorporating layers, scarves, and warmer clothing into your current summer wardrobe to stay comfortable on days where the weather is cooler. 
3. Nourish Your Body with Seasonal Foods
With any shift of the seasons comes a time to transition your diet to include seasonal fruits and vegetables. Autumn brings a bounty of produce like pumpkins, apples, pears, and root vegetables, so keep an eye out for these in your local grocery store or farmer's market. You can start to incorporate hearty soups, stews, and roasted dishes that are not only delicious but also provide the essential nutrients your body needs for the colder season over the coming month.
4. Maintain a Healthy Sleep Routine
As the days become shorter, it's essential to maintain a consistent sleep schedule. Create a calming bedtime routine, like reading a book or practicing light stretches (bedtime yoga flow anyone?), to help you relax and fall asleep more easily. Also, don't forget to go to bed and wake up at regular times to ensure you're getting enough sleep and keep your body in a good sleep-wake cycle (which helps with hormone balance too!).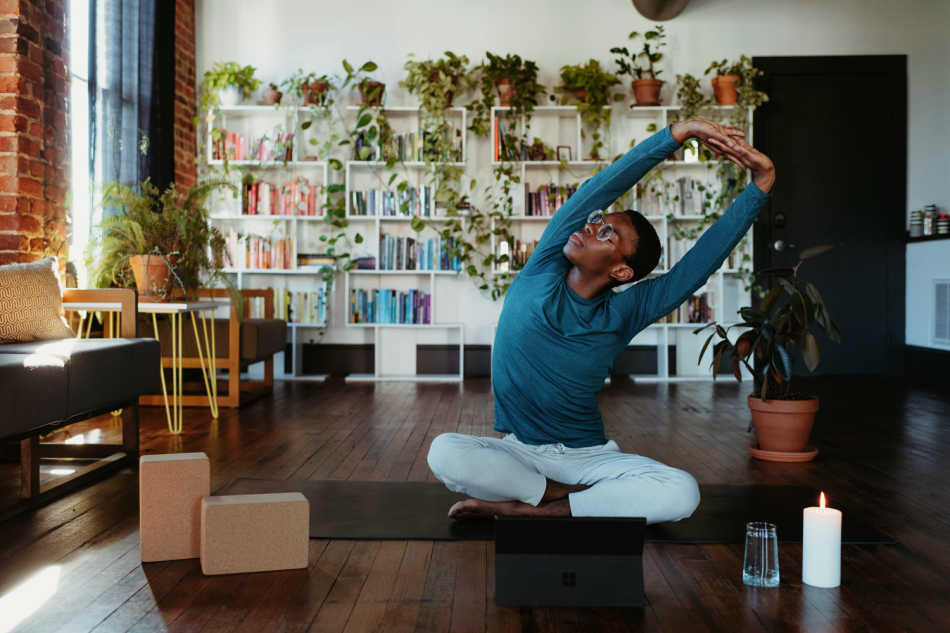 5. Stay Active Indoors
While most of us are more active during the summer, it's very important not to let the colder weather hinder our fitness routine. As summer transitions into autumn, look for indoor activities that keep you moving, such as yoga, dancing, or indoor home workouts. Keeping up with regular exercise will not only maintain your physical health but also boost your mood during this transition period as well.
6. Create a Cozy Atmosphere at Home
One of my favorite ways to support the summer to autumn transition is to decorate my home with warm and earthy tones, cozy blankets, and autumn-themed decor. Candles and soft lighting can create a soothing ambiance, making home feel inviting and comforting during the autumn evenings.
7. Practice Mindfulness and Gratitude
The transition from summer to autumn can evoke various emotions, which is why practicing mindfulness and gratitude to stay present and positive is important to do during this time. Take a moment each day to reflect on the things you are grateful for, fostering a sense of appreciation for the changing seasons and the experiences they bring. You'll be amazed at what a difference a gratitude practice will make in your outlook on life.
8. Incorporate Herbal Recipes
Of course, you didn't think I'd leave out autumn-inspired herbal recipes, did you? Herbs can play a vital role in supporting your well-being during the seasonal transition. Herbal teas, like the one below, that use chamomile (Matricaria chamomilla) flower and cinnamon (Cinnamomum verum) bark can help you relax and boost your immunity – two things that are important as we head into the autumn season. Additionally, using essential oils like lavender (Lavandula angustifolia) or eucalyptus (Eucalyptus globulus) in a diffuser can promote relaxation and ease certain seasonal discomforts as well.
Early Autumn Tea
Early autumn is a wonderful time to enjoy herbal teas that capture the essence of the season. This herbal tea recipe combines the comforting flavors of apples, cinnamon, and chamomile, creating a soothing and delightful brew. The aroma of this tea will fill your home with warmth and nostalgia, making it the perfect beverage to savor during the transition from summer to autumn.
Ingredients
2 cups of water
1 apple, sliced (choose a sweet and crisp variety like Honeycrisp or Fuji)
2 cinnamon (Cinnamomum verum) sticks
2 tablespoons dried chamomile (Matricaria chamomilla) flower
1 tablespoon honey (optional)
Shop my favorite online herbs at Mountain Rose Herbs!
Directions
Start by washing the apple thoroughly with apple cider vinegar to remove any debris and residue, slicing it into thin pieces. Keep the skin on for added flavor and nutrients. Measure out the dried chamomile flowers and set them aside.
In a kettle, bring 2 cups of water to a boil. While the water is coming to a boil, place the apple slices and cinnamon sticks into the simmering water. Let them infuse for about 5 minutes, allowing the flavors to meld together and the apple slices to soften slightly. 
After the apple and cinnamon have infused for 5 minutes, add the dried chamomile flowers to the pot. Let the tea simmer for another 3-4 minutes, ensuring the chamomile imparts its soothing aroma and flavor to the brew. Be sure to keep an eye on the time as chamomile becomes more bitter the longer it steeps!
If you prefer your tea on the sweeter side, add 1-2 teaspoons of honey to the mixture. Stir well until the honey is fully dissolved. This addition complements the apple and cinnamon flavors and enhances the overall experience of the tea.
Once the tea has steeped to your desired strength, carefully strain the liquid through a fine-mesh sieve and into your favorite teacups or mugs. Compost the apple slices and chamomile flowers, but set the cinnamon sticks aside to dry as these can be reused until they lack flavor.
Take a moment to inhale the warm and inviting aroma of your early autumn herbal tea. Sip slowly, allowing the flavors to envelop your senses. Feel the comfort of the season as you savor each delightful sip.
Additional Tips
For an extra touch of spice, you can add a small pinch of ground nutmeg or cloves to the tea while simmering.
If you want to get creative, consider adding a splash of apple cider or a squeeze of fresh lemon juice for a unique twist on the flavor.
This early autumn herbal tea is not only a delicious beverage but also a lovely way to embrace the changing season. Whether you enjoy it during a moment of solitude or share it with friends and family, this delightful tea is sure to become a seasonal favorite in your home.
If you love herbal tea and want to learn more about developing a daily tea ritual and making your own tea blends, let me invite you to enroll in my online tea-blending course, The Sunday Steep!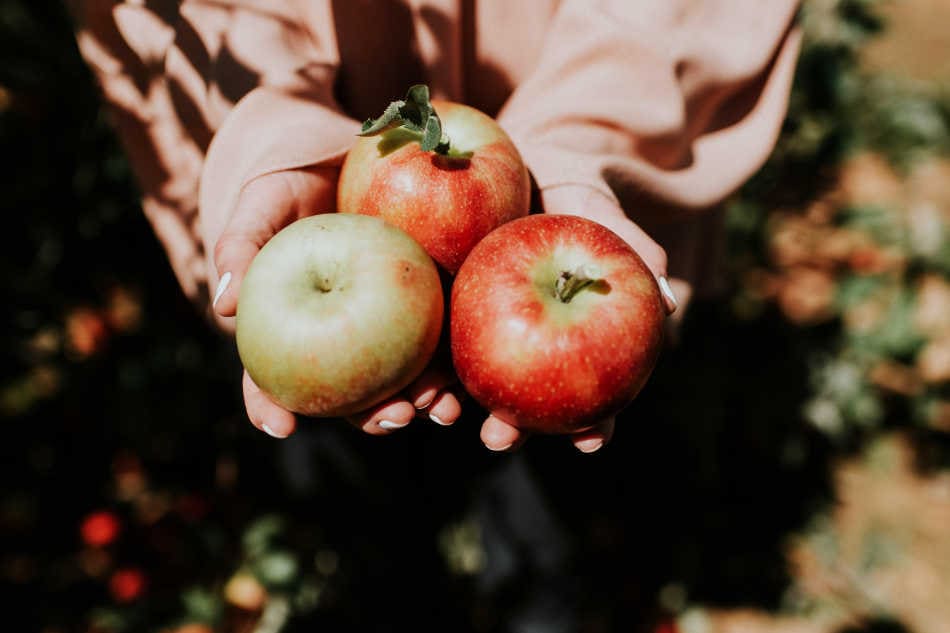 9. Plan Seasonal Activities
Another way to make the summer to autumn transition easier is to look forward to autumn by planning seasonal activities with friends and family. This could include apple picking, visiting a pumpkin patch, or enjoying a fall foliage drive. Engaging in these activities will create lasting memories and allow you to fully embrace the spirit of autumn, so make a list and start putting them on your upcoming calendar.
10. Let Go and Accept Change
Lastly, transitioning from summer to autumn signifies change, and it's essential to embrace it with an open heart, at least if we want to make the transition in a positive manner. To do this, try to let go of any attachments to the past season and welcome the new experiences that autumn brings. Adaptability is key to enjoying the beauty of every season.
Alright, friend. Transitioning from summer to autumn is an opportunity to make positive lifestyle changes that align with the changing seasons. By embracing these changes, you can make the most of this beautiful seasonal shift and eventually find yourself fully immersed in the autumn experience, ready to embrace all the beauty and transformation the coming season has to offer.
Love and light,
Meagan
PS. Which of these lifestyle tips is your favorite?